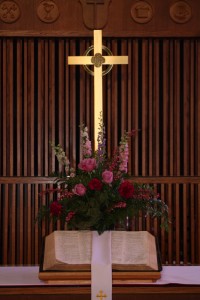 Our worship expresses the joy we have in God's love for us and our thanks in the help God gives for daily living.
The sanctuary is handicap accessible and children are always welcome. A nursery for young children is available during the worship hour.
The Lord's Supper is celebrated the first Sunday of each month and on special Holy Days, and is open to all who believe in Jesus Christ as their Lord and Saviour.
Chancel Choir leads the congregation in worship each Sunday, September through May. The choir rehearses Wednesdays at 7:00pm.
Handbell Choir rings for worship at various times from September through May. The choir rehearses Wednesdays at 6:00pm.
On a normal Sunday:
Choir Practice: 9:00 am
Worship Service: 9:45 am
Fellowship Time: 10:45 am
Sunday School: 11:00 am
FIRED UP!
Our new alternative worship service meets on Thursdays at 6:30 pm.  The service is about a half hour long, composed of contemporary music, prayer, and a brief reflection on the Word by a member of the congregation.  We normally meet in the fellowship hall, but sometimes meet in the Sadler Chapel (first Thursday of the month, plus others).  Come as you are to experience the Holy Spirit and Christian fellowship!